We've simplified payment API Key Management to make it even easier to integrate with Cybersource.
In a constantly evolving and growing market, companies often look to partnerships with third-party programs and software providers. These third parties make it possible to integrate services and options beyond a single payments platform to provide greater flexibility and solutions to your customers.
To use these third-party services, you will often have to gain or grant access to certain technical permissions using integration keys. These keys enable you on your integration journey with access to our APIs (Rest, simple order, secure acceptance, SOAP toolkit).
Payment API integration keys give you access
It's common for integrating parties to share credentials to enable the secure passing of information between solutions. This is typically done through a set of integration keys. The keys allow you to access and interact with another app without giving out your credentials and passwords.


Creating REST API keys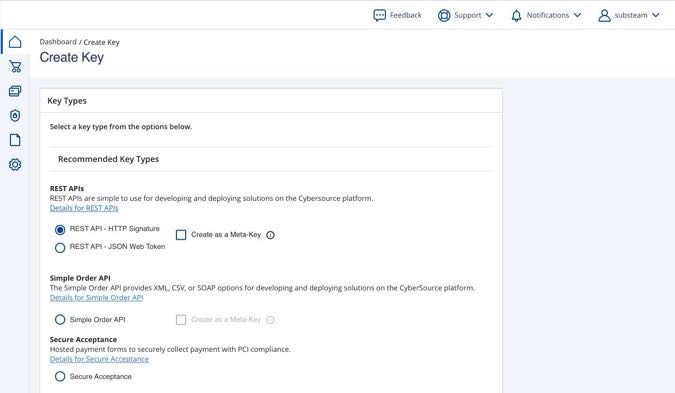 In short, a key is used to identify the calling program, its developer (or its user), to identify the origin of the request. It is a way to both identify and validate that the organization, or user, has the rights to access an application.

Taking the hassle out of key management
Managing your payment platform integration keys shouldn't be complicated or difficult. That's why we've invested into streamlining the process. You can now generate and managing your integration keys directly from the main menu of the Cybersource Business Center using our Key Management feature. From the Business Center you can quickly identify the keys you need, generate the keys with a simple 3-step process, and view a dashboard of the keys most often used by your organization.