Chargeback insurance can boost revenue in the short term, but it comes with higher costs and lower revenue in the long term. Cybersource Revenue Optimization Solution enables you to balance risk and performance in a way that allows your business to grow.
Are payment guarantees effective?
On the surface, some types of commerce protection, like a financial guarantee for fraud losses, can be enticing. But like most things that seem too good to be true, there is more to the story.
In the U.S. alone, eCommerce sales are expected to increase 17 percent in 2022, reaching $933 billion.1 Merchants want to capture this growth and, with a guarantee, feel secure in increasing their acceptance rates. In the short term, they can often see an increase in revenue—but this can be short-lived.
Your business's risk performance, measured by key metrics like acceptance and chargeback rates, is critical—but it must be framed against a backdrop of broader business metrics.
It's important to manage your risk metrics in a way that maximizes revenue, including how authorization rates are impacted by risk performance.  
The risk of unbridled acceptance
When a merchant accepts more fraudulent transactions, issuers take notice. Card-not-present (CNP) transactions are already more susceptible to issuer scrutiny, with an average of 18 percent of transactions declined globally,2 compared with only 1 percent for card-present. Worse, it's estimated that one out of every 15 authorization declines is actually a legitimate transaction.3 When issuers see more fraudulent transactions being sent for authorization, the rate at which they authorize transactions begins to decline.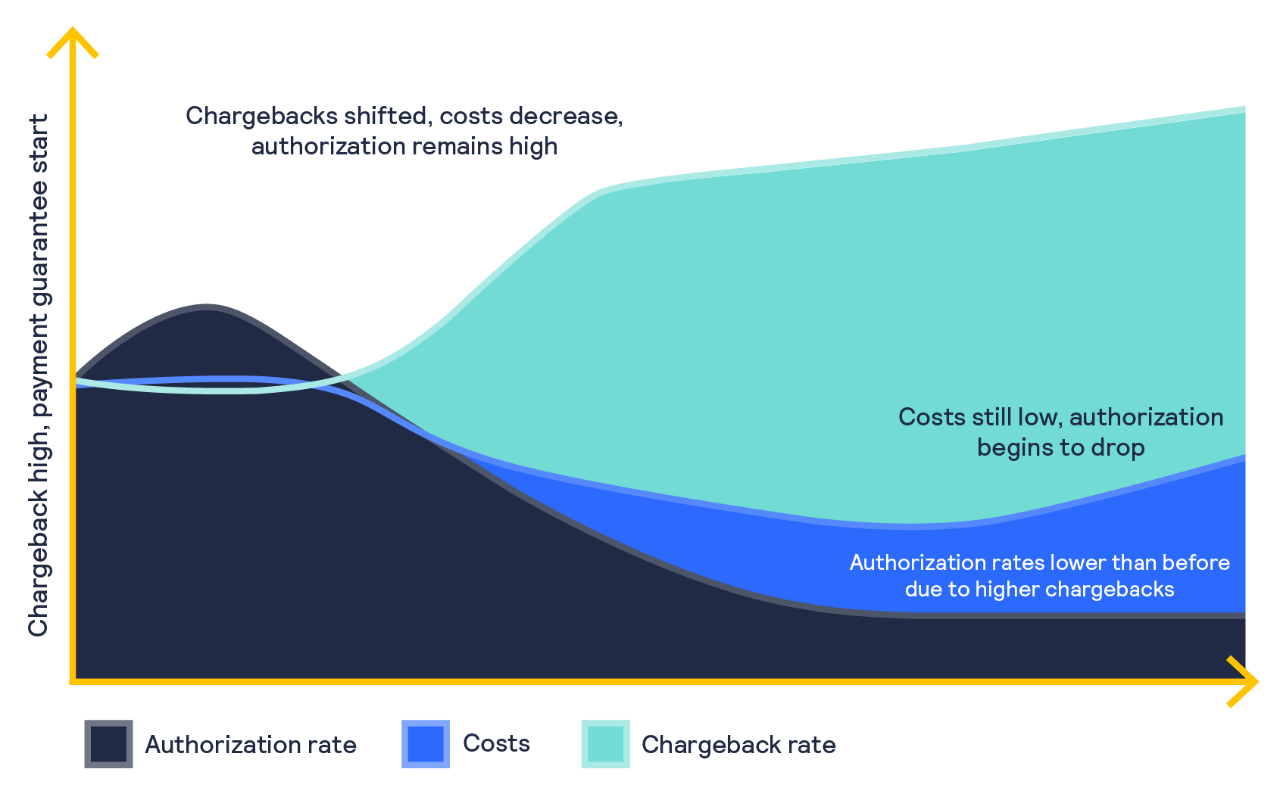 This means big losses for merchants: an estimated $166 billion in 2022 in the U.S. alone. With a 6.67 percent false positive rate, we can conservatively estimate that $12 billion in revenue was falsely declined by issuers. A financial guarantee for chargebacks fails to address this larger problem.
Maximize revenue, mitigate risk
For 20+ years, Cybersource has been a fraud management pioneer, staying a step ahead of fraudsters and supporting businesses through a rapidly changing landscape. To ensure your business's long-term success, we've found that balancing risk, acceptance, and operations yields the best results.
Our solution allows you to focus on growing your business while we create a customized fraud strategy that meets your unique needs. Cybersource Revenue Optimization Solution is built with powerful machine learning and artificial intelligence and infused with global VisaNet data. 
Payment revenue optimized and automated in one solution
Accept more good orders
Before you select a payment guarantee provider, make sure you know of all the costs involved. Rely on a proven, stable, responsible approach to support your success. Talk to our payments experts to see how we can help your business grow.